JBL PartyBox 100 Price in Kenya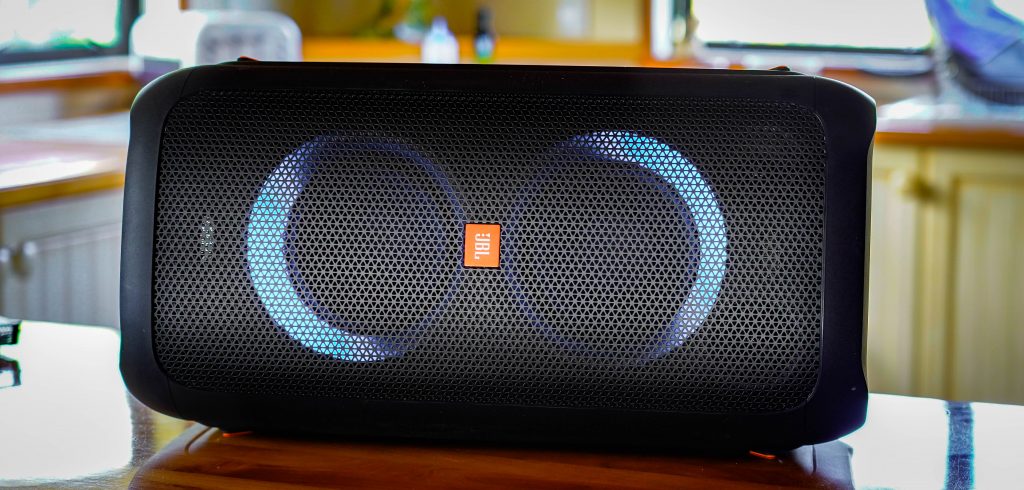 Lets start with the most important thing, the sound. Big is a good word to use, there is a lot of sound coming out of this unit. Bass is massive and again one of the best sub's I've heard from anything like this that we've reviewed before, the bass boost is impressive. The high is is nice and clear, to a point. Playing most any style of music through this at 80% volume will sound fine, get past that threshold and the mids get lost the high end gets muddied by the low end. If you've got access to an EQ you can adjust the levels to combat this to good effect and get a very acceptable sound out of it – most modern smartphones have this option, I used my Samsung note 10+ EQ and it did make a vast improvement to this problem. Given the fact that everything is in the same box there is going to be some distortion when the low end air interferes with the high end sound being literally blown around in the wind, and this unit really can move some low end air pressure.
Now what you could do if you wanted more sound is buy 2 of them. hear me out…
These speakers can be set up easily to run many speakers from 1 device – you don't even need the same model, say you've got a 100 series in your kitchen ( yes its quite big) and a 1000 series in your mancave. Then you decide they both need to be in the backyard for a BBQ, you can do that – there's actually a set up using these outside spark area at the moment where they use a number of them I think 6 of the biggest ones and that pumps a huge amount of sound. This is seemingly something they have angled for as even the smallest model has a receptor to be placed on a speaker stand. Bigger picture here, if you had 2 or 4 of these smallest 100 series that'd going to be more than enough for any Backyard BBQ and the batteries will last the whole event – that's pretty neat
Battery power does seem to be pretty up there as claimed, I had this sitting on my kitchen bench for 2 weeks playing music ( at the appropriate level) for every meal I prepared and it hasn't even come up with any kind of battery warning – that's pretty rad. I Imagine this is the sorta thing that would get moved around a bit – its not the lighest or smallest but you'l certainly be the loudest – but with that, not everyone likes your music at the beach; don't be an asshole with it.
there are some other features like being able to plug in a mic or guitar, I tried an acoustic guitar through it – it does work, quite well actually. Perhaps useful for a busker or jams but it wont replace a proper guitar amp, not that its trying to. I didn't try singing through it, you're welcome.
The lights are a fun effect, the bigger models have more options with light panels which look cool but hey something is better than nothing if you're sitting in your room alone listening to my chemical romance right? – it does make for some pretty fun kitchen dance parties.Buy JBL PartyBox 100 from THE TOMORROW TECHNOLOGY Nairobi