Garmin Venu® 2 Plus | Health & Fitness Smartwatch with a fitness smartwatch with the ability to make and take phone calls from your wrist, connect to your phone's voice assistant, and health……
Battery for days
Do more, track more, and know more about your overall health
Say hello to your new watch
PLACE AND RECEIVE PHONE CALLS WHEN PAIRED WITH YOUR APPLE® OR ANDROID™ SMARTPHONE1
UTILIZE SMARTPHONE VOICE ASSISTANT
USE THE GARMIN ECG APP2 TO RECORD YOUR HEART RHYTHM AND CHECK FOR SIGNS OF ATRIAL FIBRILLATION (AFIB)
Keep an eye on what's inside
BODY BATTERY™ ENERGY MONITORING
Venu 2 Plus reviews your stress, heart rate, sleep and activity level to gauge your body's energy levels.
STRESS
Garmin Venu® 2 Plus you most likely experience stress at some point in your day, but how much and when? Keep an eye on it with your Venu 2 Plus smartwatch.
HEART RATE
Venu 2 Plus samples your heart rate multiple times per second and lets you know if it stays too high or too low when you're resting.
SLEEP SCORE
Get a score for the quality of your sleep and tips on how you can do better.
Which Venu 2 Plus is for you?
Pick a case, choose a band, and make your smartwatch yours
More battery. More features. More options.
Apple or Android? Doesn't matter. Connect your watch and stay connected.
All your health and fitness stats in one place — no subscription required
GARMIN ECG APP
The ECG app2 uses sensors to record the electrical signals that control how your heart beats. It analyzes that recording to detect signs of an irregular heart rhythm called atrial fibrillation (AFib).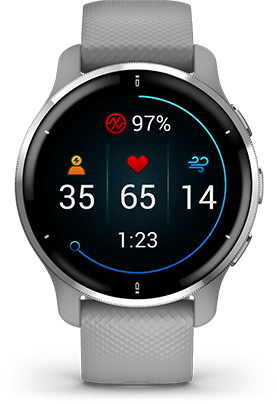 HEALTH SNAPSHOT™ FEATURE
Log a 2-minute session to record key stats, including heart rate3, heart rate variability, Pulse Ox4, respiration and stress. Then generate a report with those stats to share via the Garmin Connect app on your compatible smartphone.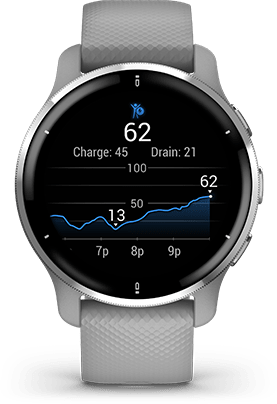 BODY BATTERY ENERGY MONITORING
See your body's energy levels throughout the day so you'll know when your body is charged up and ready for activity or drained and needing to recharge with restful sleep.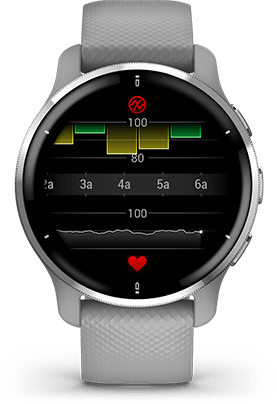 PULSE OX SENSOR
Use the Pulse Ox sensor4 to spot-check your blood oxygen saturation at any point during the day, or while you sleep, to show how well your body is absorbing oxygen.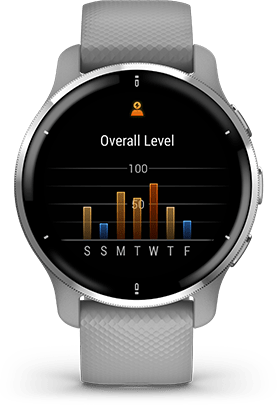 STRESS TRACKING
Find out if you're having a calm, balanced or stressful day with continuous tracking. Relax reminders will even prompt you to do a short breathing activity when the watch detects stress.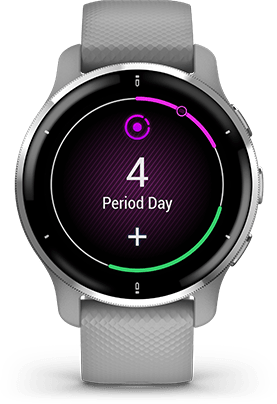 WOMEN'S HEALTH TRACKING
Use the Garmin Connect app to track your menstrual cycle or pregnancy. Log symptoms, get exercise and nutrition education, and more. Even see and log details on your wrist with the Women's Health Tracking app.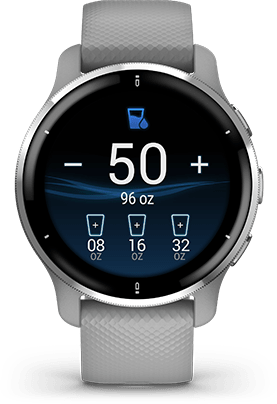 HYDRATION TRACKING
Log your daily fluid intake as a reminder to stay hydrated. You can even have an auto goal for hydration that adjusts based on how much you sweat during activities.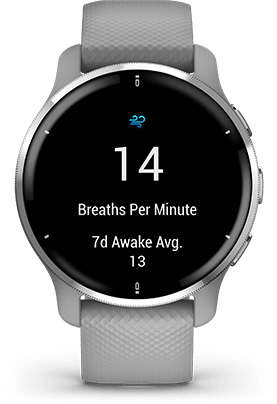 RESPIRATION TRACKING
See how you're breathing throughout the day, during sleep, during breathwork and yoga activities or during a Health Snapshot session.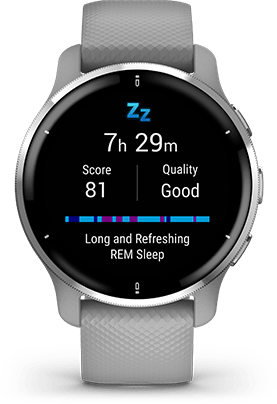 SLEEP SCORE AND ADVANCED SLEEP MONITORING
Get a score for your sleep's quality and insights on how you can do better. Even keep track of the different sleep stages as well as heart rate, stress, Pulse Ox4 and respiration.