Samsung Galaxy Watch4 44MM Price in Kenya
It's more than a smartwatch
Push yourself to the next level. Crush workouts, health goals and your to-do list with Samsung Galaxy Watch4.
Make the most of every workout
Wellness on your wrist
Get the health data you need to power your wellness goals with body readings right on your wrist.
Get a BIA measurement using just two fingers in 15 seconds for fitness and health purposes.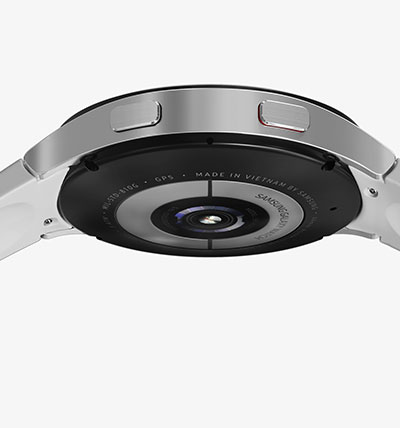 The new Samsung BioActive Sensor captures your body composition in real time to inform you as you manage your health goals.
Go farther together
Enjoy every step you take with your friends and family with Galaxy Watch4. Track your steps and compete with friends through a live message board.
Name a workout. It can track it
Track your activities and fitness scores on your watch and phone. Count steps, check calories, and stay on the grid with GPS. Galaxy Watch4 detects physical activity to track your routines and supports more than 90 exercises for a more accurate report of your workouts.
Be smart about your heart
Meet the Samsung BioActive Sensor that measures ECG in real time. You can check and monitor abnormal heart rate and rhythm through ECG and send data straight to a compatible Galaxy phone to be easily shared.
Better sleep starts here
Manage your overall sleep quality with an advanced sleep tracker that detects and holistically analyzes your sleep stages while you rest. Improved measuring options let you check your blood oxygen levels and detect if you are snoring.
Sleek, Seamless, Iconic
Galaxy Watch4 features a simple design with a streamlined aluminum metal frame. It offers high-end looks and functionality for your workouts and day-to-day tasks.
Choose from a selection of bands, including the Hybrid Leather Band, the Sport Band, and more. Treat your wrist with high-quality materials, comfort fit, and sweat-resistant surfaces.
A new day. A new watch face
Choose between analog or digital watch faces with a variety of backgrounds, fonts, and colors to match your tastes, the weather, or occasion. Spice up your character watch faces with AR Emojis to express your style, while animated graphics show what you're up to, like running or listening to music.
It's a real team player
The first smartwatch with Wear OS Powered by Samsung, Galaxy Watch4 puts seamless access to your favorite apps on your wrist. You'll get a rich app selection from music streaming apps to anything in the massive library of health and fitness apps.
The power of Google on your wrist
Tap into the power and convenience of Google services and apps right on your wrist. Pay for coffee. Get directions to the park. Stream your favorite tunes through YouTube Music.
Plays well with others
The Galaxy Watch4 comes with Wear OS Powered by Samsung, giving you seamless connection with Samsung Galaxy devices. Control ANC on Galaxy Buds2 or enable apps on your phone straight from your watch
Galaxy Watch4 for business
Connect seamlessly with your Galaxy ecosystem in the office, on the road or wherever work takes your team.
Buy now for your business and get exclusive volume pricing with a Samsung Business Account, plus up to 60 days to pay with 0% Samsung Business Financing.
Buy samsung galaxy watch4 online from THE TOMORROW TECHNOLOGY, Nairobi.